Welcome to Herne Bay Pier
Do you have some spare time? Would you like to work with Herne Bay Pier and make a difference? The Pier Team are looking for volunteers of all skills from those good with a screwdriver (Maintenance Team), to those who like interacting and meeting with the public both in the day and/or evenings at our amazing live music events (Steward Team) and those that are great with social media (Publicity Team) If you can help with any of the above please apply to join our dedicated band by clicking the button below, we'd love to hear from you.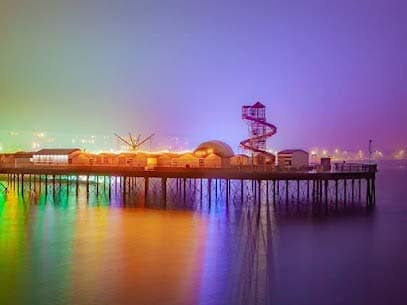 What our visitors say on Google ...
Today, Herne Bay Pier is a bright, colourful, bustling place where fun can be found for all the family; where you can choose from a wide range of delicious meals & snacks, have a drink, ride an old fashioned fairground horses, have a go on the helter skelter, browse the numerous, interesting retail huts or just pass the time enjoying the sea air and all that this traditional seaside town has to offer.
Herne Bay Pier is run by Herne Bay Pier Trust, a registered charity.
Open daily 10 am to 6 pm weather permitting.
Attractions are open at weekends, on public holidays and during school holidays.
The Retail Village and Food Court are open daily but, some may have varying opening hours.